Atago PAL-1 Digital 0-53% Brix Refractometer 32 + (10) 3ml Pipettes


Click Here. Double your traffic. Get Vendio Gallery - Now FREE!
  Item Description: Atago PAL-1 Portable Digital 0.0-53.0% Brix Refractometer COMES WITH (10) 3ml Pipettes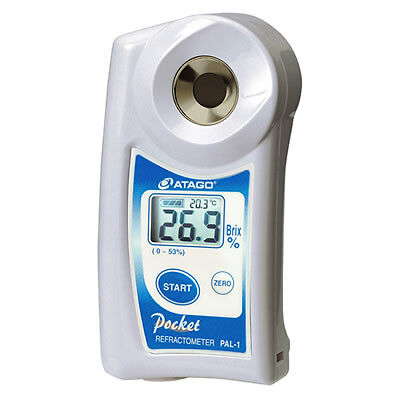 THIS UNIT IS THE MOST POPULAR DIGITAL BRIX REFRACTOMETER IN THE WORLD!
A FAVORITE OF FOOD INDUSTRY PROFESSIONALS!
WATER AND DUST-PROOF TO IP65 LEVELS!  THAT'S AN INDUSTRY BEST!
---
One BRAND NEW Atago PAL-1 (0% to 53% Brix Scale) Hand held Digital Refractometer in a WHITE vinyl case. This unit is especially handy for testing items like fruits, vegetables, grasses, plants, trees, etc, for there sugar content, as well as Raw Maple Sap, Soda Fountains, Barbeque Sauces, Ketchups, Metelworking Coolant (Soluble Oil, Semi-Synthetic and Synthetic), Water Diluted Stamping Compounds, Water Diluted Rust Preventatives, Water Based Cleaners, Lobster Blood and more.  Calibrate with Water (water = 0.0% Brix) and wipe clean with a cotton towel, and you're ready to go!  You have highly accurate results in seconds!  This is a very powerful and simple to use unit that has the unsurpassed quality of Atago! 
Included are: Case, (10) 3ml pipettes, batteries and a Users Guide. 
This is the Refractometer of Professionals!
The PAL-1 is equipped with "Automatic Temperature Compensation" for accurate measurements without recalibration after shifts in ambient working temperature (field use).  The "ATC" range is 10'C-100'C (50'F-212'F).  This range allows you to sample HOT Samples!
The unit runs off (2) AAA batteries on a LARGE PRINT digital LCD display.
---
PAL-1 Specs:

* Scale Range: 0%-53% Brix/Temperature 9.0 to 99.9°C
* Resolution: 0.1% Brix/Temperature 0.1°C
* Accuracy: +/- 0.2% /Temperature ±1°C
* Dimensions: 55mm x 31mm x 109mm
* Weight: 100 grams/4 ounces
When you can find this item, it generally sells for $300.00 and up at most retailers.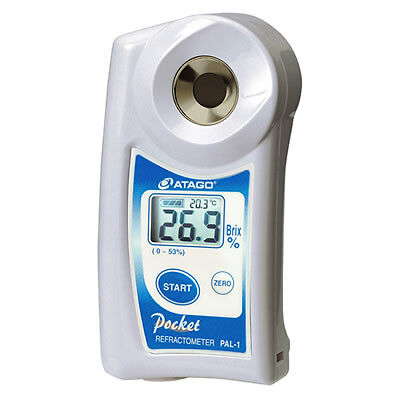 ---
International Shipping:

International shipping is via either US Postal's Global Priority (Air) Mail, which is $15.00 ($12.00 to Canada) and takes 3-8 business days.
Shipping Insurance is an additional $15.00.
 Questions?
Larger orders?
Multiple Orders?
Prefer a different shipping method?
Please feel free to call, fax or e-mail!
---
Other types of Portable Refractometers are available through our eBay Store!  Check out
our 
other items
!
National Industrial Supply 

30777 Rancho California #891420
Temecula, CA 92589, USA
Sales: 951.308.9269
Fax: 310.833.7306  

We prefer Paypal!

---
---