$59.99 Westover Ethylene & Propylene Glycol Antifreeze Battery Refractometer
Westover Ethylene & Propylene Glycol Antifreeze Battery Refractometer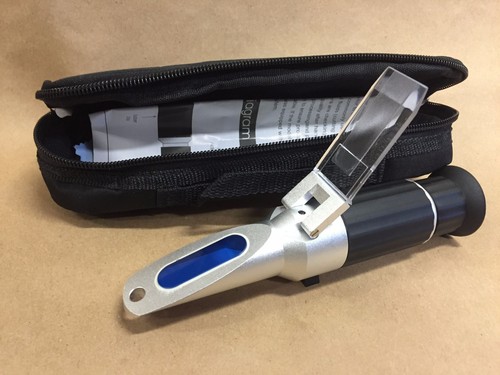 Included are: a pipette for dropping test fluids onto the prism, a mini screwdriver for scale calibration, and a Users Guide.  
---
* This unit will check your anti-freeze mixtures, and tell you what condition your battery is in! A serious tool for serious automotive people! 
* This model is made by the same manufacturer who makes the Refractometers for major Automotive/Tool Resellers (like the companies who drive the tool trucks around town).
What will this unit do for me?
It will tell you the freeze point of your ethylene or propylene glycol antifreeze in Fahrenheit!
It will tell you the concentration of ethylene or propylene glycol antifreeze in water by percentage v/v!
It will tell you the condition of your battery by measuring the Battery Acids Specific Gravity - the weaker the acid SG, the weaker the battery strength!
---
The FBRHA-100ATC  Portable Refractometer come in a BLACK NYLON ZIPPER BAG CASE. This model is designed to measure either Propylene Glycol or Ethylene Glycol Antifreezes and Battery Fluid. Checking these fluids will allow you to measure your radiator and battery's performance. The refractometer will insure that all is working properly, and not causing problems (like rust, prone to freezing, poor charging, poor cooling, etc.).
This unit is designed with Automatic Temperature Compensation ("ATC") which allows for ambient shifts in outdoor temperatures, while still yielding accurate results. ATC works between the temperatures of 50'F to 86'F
---
IMPORTANT!  HIGH QUALITY! 2 YEAR WARRANTY!
EACH UNIT COMES WITH A 2 YEAR WARRANTY AGAINST DEFECTS.  FREE REPLACEMENT PARTS IF YOU EVER NEED THEM!
  OURS ARE MADE OF LIGHTWEIGHT ALUMINUM AND COMES IN A NYLON ZIPPER BAG CASE!  A GOOD DEAL IS ONLY GOOD IF THE PRODUCT LASTS AND IF THE SELLER IS STILL IN BUSINESS!  WE HAVE BEEN ON eBay SINCE 2001!  THAT'S LONGER THAN ANY OTHER SELLER OF REFRACTOMETERS!
YOU CAN CALL, FAX OR E-MAIL US IF YOU EVER HAVE ANY QUESTIONS.  CAN YOU CALL OR FAX THE OTHER GUYS ON eBay?
PHONE: 310.748.6858 - PACIFIC TIMEZONE (-8:00 GMT)
FAX: 310.733.5480
---
WE HAVE FIXED PRICE ITEMS FOR IMMEDIATE PURCHASE!
CAN'T FIND WHAT YOU NEED?  E-MAIL US!  WE CARRY MORE REFRACTOMETERS THAN ANYONE ELSE! 
BUY WITH CONFIDENCE AND THE PEACE OF MIND!
THIS IS OUR BUSINESS, NOT OUR HOBBY!
---
TO RECAP:
A Great Quality unit

We have been selling online since 2001!  

Experienced!  Over 100,000 units sold!

A 2 Year Warranty against defects

FREE replacement parts - no matter where you live in the World!

Customer Service - Call, fax or e-mail us.  If we're not available, please leave a message so we can get back to you!

Competitive Pricing

FAST Shipping!
Other Types of Glycol Antifreeze and Battery Refractometers
National Industrial Supply 
30777 Rancho California #891420
Temecula, CA 92589, USA
Sales: 951.308.9269
Fax: 310.833.7306  

---