Hanna HI7061L pH Meter Cleaning Solution, 500ml Bottle, General Use
Item Description: Hanna HI7061L Electrode Cleaning Solution for General Use, 500ml Bottle
GET THE GUNK OUT!
Use this product to keep your pH Meters CLEAN!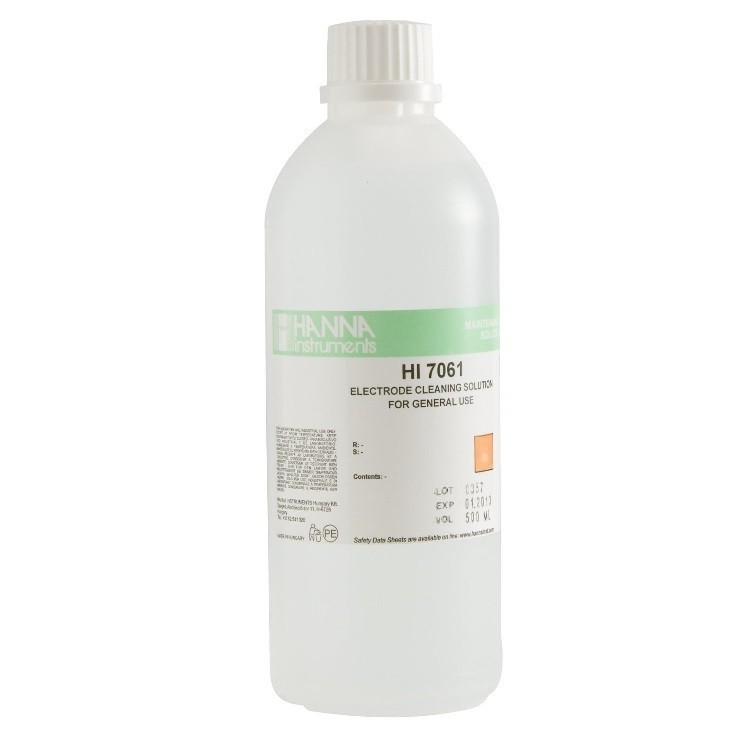 HI-7061L Electrode Cleaning Solution for General Use in a 500ml bottle!
A re-sealable bottle containing 500ml of 
Electrode Cleaning Solution for General Use
---
---
SUGGESTED PROCEDURES:
Clean the liquid junction of your electrodes once a day or at least once a week to prevent clogging and to maintain accuracy. Immerse the electrode in the proper cleaning solution for about 5 minutes.
HANNA® offers a wide range of cleaning solutions, for general purpose and specific applications, to eliminate all kind of dirt or deposit from the electrode, and thus ensure correct measurements.
BUY AS MANY AS YOU NEED!
---
If you ever have any questions, please feel free to call or e-mail!
Check out our eBay store at:
---
Shipping:
Domestic: All items are shipped out USPS Priority Mail or UPS Ground at $7.50 for the first 500ml bottle, and an additional $1.50 for each bottle afterwards.
International: S&H is $15.00 ($12.00 to Canada) via USPS Global Priority Mail.  Please add an additional $5.00 ($3.50 to Canada) per extra bottle.
---
National Industrial Supply 
30777 Rancho California #891420
Temecula, CA 92589, USA
Sales: 951.308.9269
Fax: 310.833.7306 
We Prefer Paypal!
Pay me securely with any major credit card through PayPal!
---