Hanna Instruments HI1006-3205 PVDF HT Glass Sensor and BNC Connector
Item Description:  Hanna Instruments

HI1006-3205 PVDF HT Glass Sensor and BNC Connector + Pt100 Industrial Flat Tip pH Electrode with PTFE Junction, 5m Cable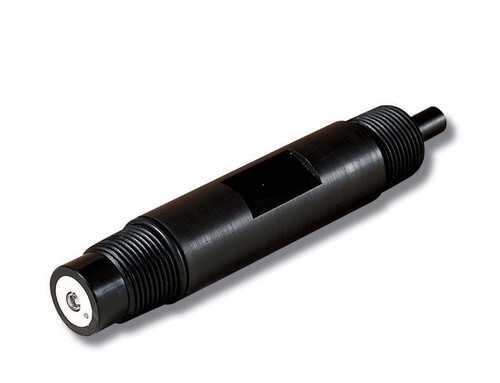 Product Features
Self-cleaning flat tip sensor. Built-in potential matching pin
Significantly reduced maintenance requirement. Three different glass type pH sensors
Models especially designed for plating baths. ORP electrodes with platinum or gold sensor
PVDF body. Models with built-in Pt100 or Pt1000 temp. sensor
Three junction types: ceramic, PTFE and open. Internal amplifier models powered by the process controller

Product Description
The Hanna Instruments HI 1006-3205 is a pH electrode for continuous in-line monitoring in industrial applications with a polytetrafluoroethylene (PTFE) junction, Automatic Temperature Compensation (ATC), a nontoxic polyvinylidene fluoride (PVDF) body, a self-cleaning flat tip sensor, HT (high temperature) glass bulb, 3/4" National Pipe Thread Tapered Thread (NPT) external threads, a 5m (16.4') cable, a Bayonet Neill-Concelman (BNC) connector, a built-in matching pin, and operates in pressurized systems. A pH electrode is commonly attached to a pH meter to measure the pH of a substance such as water, food, beer, or wine in lab, industrial, and food applications. This electrode has a PTFE junction that reduces sample solution ingress into the reference compartment for longer electrode life. ATC is provided by a three-wire internal platinum Pt100 resistance thermometer for accurate readings in fluctuating temperatures. The PVDF body is nontoxic and compatible with food. The flat tip eliminates deposits that can foul the electrode. The HT glass bulb is for high temperature applications from 0 to 100 degrees C (32 to 212 degrees F). The 3/4" NPT threads on both ends ease installation. The electrode operates in pressurized systems up to 87 psi (6 bar). A BNC connector provides tight cable connections and an internal matching pin prevents problems caused by grounding loop current, such as electrode damage and fluctuating measurements. The electrode comes with a 5m (16.4') cable.
Specifications
| | |
| --- | --- |
| pH range | 0 to 14 |
| Junction | PTFE |
| Electrolyte | Polymer |
| Body material | PVDF |
| Sensor material | HT glass |
| Operating temperature | 0 to 100 degrees C (32 to 212 degrees F) |
| ATC sensor | Pt100 |
| Maximum pressure | 6 bar (87 psi) |
| Connector | BNC |
| Cable | 5m (16.4') |
An electrode, also called a sensor or probe, is an instrument used with a meter to test and measure parameters of a substance. All electrodes are probes or sensors, but not all probes are electrodes or sensors. Probes, such as temperature probes, are used to penetrate a material for measurement. Common electrode types are pH, total dissolved solid (TDS), and ion selective electrode (ISE). Electrodes can be half-cell or full-cell (also called combination) types. They can be refillable or non-refillable. Housing material is typically glass or epoxy, and sensors are commonly made with stainless steel or a glass bulb. pH electrodes, which measure the pH of a substance, often have a glass bulb. The bulb senses hydrogen ions, and generates a millivoltage that is picked up by the filling solution and transferred to a wire that connects to the pH meter. Ion selective electrodes (ISEs) respond selectively to ions in the presence of other ions. Electrodes are commonly used by researchers, manufacturers, and hobbyists in a wide variety of industries, such as aquaculture, agriculture, chemistry, food and beverage, wine-making and water-testing, and for scientific applications. An electrode can be used with a datalogger to assist in temperature measurement.
Hanna Instruments manufactures analytical instrumentation and supplies, including pH meters, electrodes, chemical reagents, and buffer solutions. The company, founded in 1978 and headquartered in Woonsocket, RI, meets International Organization for Standardization (ISO) standard 9001.
What's in the Box?
HI 1006-3205 electrode
5m (16.4') cable

International Shipping:
International S&H is 

Canada: $12 Worldwide: $15

Via US Postal's Global Priority Mail/Air Mail which takes 3-8 business days depending on where you live and how far it is from California.
Upgrade your order to USPS Express Mail  - this includes a more robust Delivery Tracking too...
Questions?
Larger Orders?
Please feel free to call, fax or e-mail!
Want it right away?  You can buy them at our eBay Store! Click the tag ------>
National Industrial Supply 

30777 Rancho California #891420
Temecula, CA 92589, USA
Sales: 951.308.9269
Fax: 310.833.7306 
We prefer Paypal!
---