Misco Beer Refractometer: Plato & Specific Gravity (D 20/20°C) - NO ARMOR JACKET


Click Here. Double your traffic. Get Vendio Gallery - Now FREE!
  Item Description: Beer Refractometer - Plato & Specific Gravity (D 20/20 °C) - NO ARMOR JACKET
MADE IN THE USA!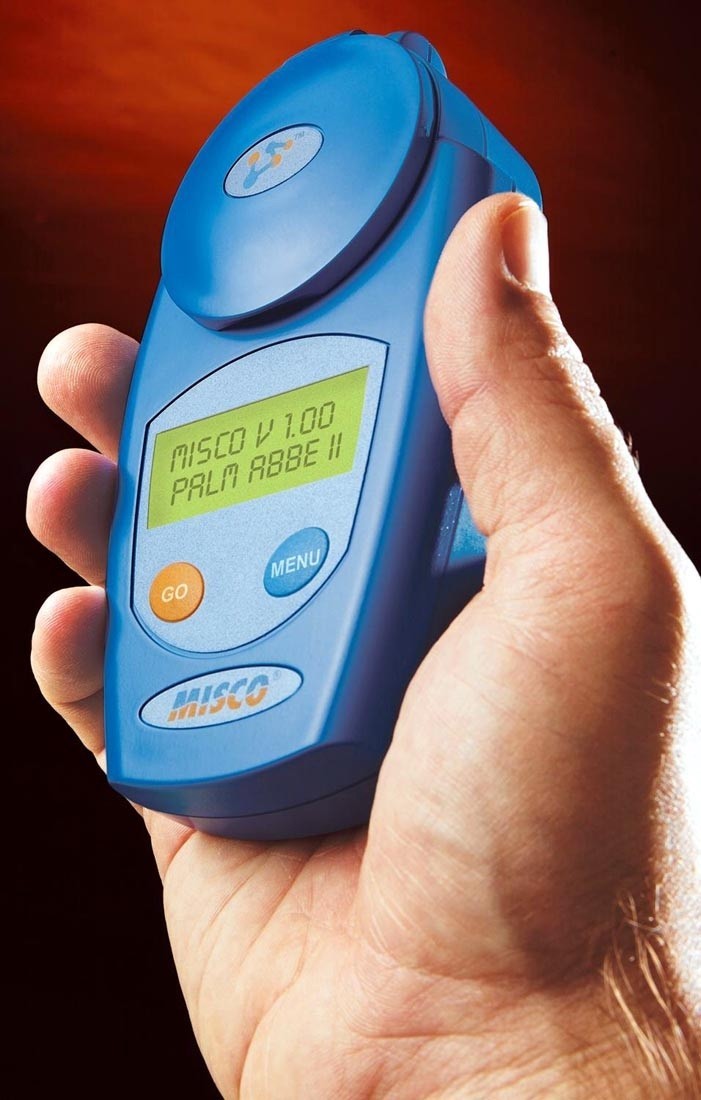 INSANE PRICE FOR THE POWER!
DID WE MENTION THAT IT IS MADE IN THE USA?  IT IS!
---
One BRAND NEW MISCO Beer Refractometer features both a Plato and a Specific Gravity (D 20/20) scale equipping it to make standard measurements of wort used in beer making. The Plato scale is based on the mathematical relationship between sucrose and refractive index, as are all Plato refractometers. However, the Specific Gravity scale was scientifically derived from a beer model with a very complex sugar profile, which is influenced strongly by maltose, the primary wort sugar. As there is very little sucrose in wort, Specific Gravity measurements are naturally more accurate than sucrose-based refractometers. Both scales are automatically temperature compensated for true wort sugars.

Whether you are a beer chemist working for a multinational brewery, or a passionate brewer crafting one-of-a-kind beer in your own home, the goal of the MISCO Digital Beer Refractometer is to help you by providing the most accurate possible beer measurements from start to finish.

Fast, convenient, and easy to use, the MISCO Digital Beer Refractometer requires only a fraction of the sample size required by traditional hydrometers. Simply place a drop or two of wort in the stainless steel well and press a button. The beer refractometer delivers a nearly instantaneous digital readout on a large backlit LCD display. The digital readout removes the subjectivity associated with interpreting where a boundary line crosses tiny little scale divisions.

Precision is assured thanks to MISCO's proven OPTICAL-ENGINE®, which is at the heart of every Digital Beer Refractometer. Optical-Engine technology features high-precision sapphire optics, the next hardest substance to diamond, which improves the speed and accuracy of temperature measurements. Competing digital refractometers only use glass prisms. A 1,024 element high-definition detector array provides more than eight times the resolution of competing 128 element low-definition detector arrays. The MISCO array has more than 3,256 pixels per inch (ppi) resolution compared with 400 ppi resolution in competing digital refractometers. The net result is an instrument that is more rugged and more precise. 
INCLUDES: MISCO Palm Abbe Refractometer & Instruction Manual Does NOT include the Protective Rubber Armor Jacket
This is the Refractometer of Professionals!

The unit runs off (2) AAA batteries on a LARGE PRINT digital LCD display.  !
---
MISCO Digital Beer Refractometer Specs:

| | |
| --- | --- |
| Temperature Control Method | Auto Temp. Compensation |
| Temperature Control Basis | Wort Sugars |
| Temperature Range | 10 to 40 °C (50 to 104 °F) |
| Power Source | 2 AAA Batteries |
| Battery Life | 5000+ Readings |
| Dimensions | 145 x 75 x 37 mm (5.7 x 2.95 x 1.46 in.) |
| Weight | 250 grams (8.8 Oz.) |
| User Programmable | Factory Reprogrammable, Options/Settings, Select Scale |
---
International Shipping:

International shipping is via either US Postal's Global Priority (Air) Mail, which is $15.00 ($12.00 to Canada) and takes 3-8 business days.
Shipping Insurance is an additional $15.00.
 Questions?
Larger orders?
Multiple Orders?
Prefer a different shipping method?
Please feel free to call, fax or e-mail!
---
Other types of Portable Refractometers are available through our eBay Store!  Check out
our 
other items
!
National Industrial Supply 

30777 Rancho California #891420
Temecula, CA 92589, USA
Sales: 951.308.9269
Fax: 310.833.7306  

We prefer Paypal!

---