MISCO DEF-202 Palm Abbe Digital Refractometer, Urea Scales + Armor Jacket


Click Here. Double your traffic. Get Vendio Gallery - Now FREE!
  Item Description: MISCO DEF-202 Palm Abbe Digital Handheld Refractometer, Urea Scales, Concentration and Refractive Index of Urea-Based Diesel Exhaust Fluid WITH Protective Rubber Armor Jacket

MADE IN THE USA!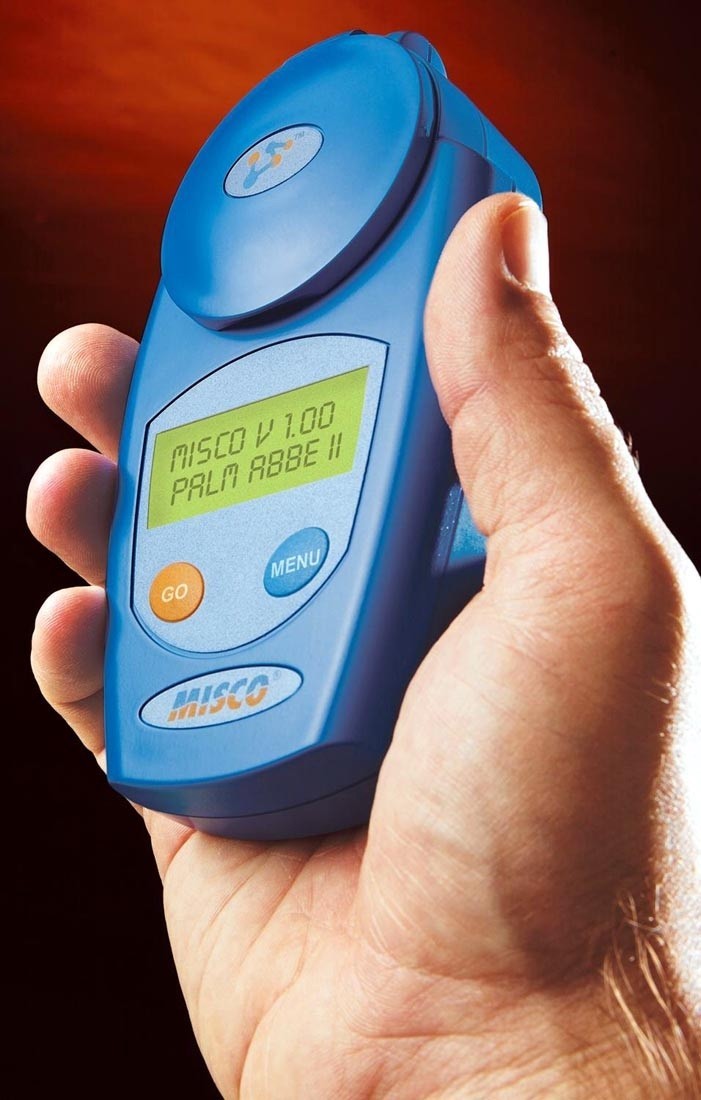 INSANE PRICE FOR THE POWER!
DID WE MENTION THAT IT IS MADE IN THE USA?  IT IS!
---
One BRAND NEW  MISCO DEF-202 refractometer is the ideal method for testing and monitoring the concentration of urea-based Diesel Exhaust Fluid (DEF or AdBlue) required by diesel engines equipped with Selective Catalytic Reduction (SCR) technology. This dual scale refractometer has a DEF concentration scale and a refractive index scale.
Diesel Exhaust Fluid (DEF) is already a reality for trucks, buses, and highway vehicles powered by diesel engines. In 2014, new Tier IV guidelines go into effect for off-road equipment as well. These regulations will affect excavators, bulldozers, skid steers and other commercial construction equipment. Also affected are farm tractors and agricultural equipment, heavy forklifts, and airport ground service equipment. Even diesel powered stationary equipment such as generators, pumps, and compressors will be required to meet emission requirements.
To comply with EPA regulations, engine manufacturers are using SCR technology which requires a very precise concentration of liquid urea (DEF) in order to operate properly. MISCO refractometers meet or exceed the requirements of ASTM D7821 - 12, Standard Test Method for Field Test Determination of Urea Concentration in Diesel Exhaust Fluid (DEF). Concentration variations of as little as +/-0.8% will prevent a DEF fluid from meeting the specifications mandated by International Standards Organization (ISO). DEF dilution or contamination can impact system performance and maintenance costs. Without the proper tools it is nearly impossible to know if a DEF supply has been diluted. 
Included are:  MISCO Palm Abbe Refractometer, Protective Rubber Armor Jacket, Instruction Manual
This is the Refractometer of Professionals!

DEF-202: Scale 1 Fluid: Urea (NH2)2C0; Unit of Measure: % Weight/Weight; Range: 0 to 51; Resolution: 0.1; Precision: +/-0.1
                 Scale 2 Fluid: Urea (NH2) 2C0; Unit of Measure: Refractive Index nD; Range: 1.3330 to 1.4056; Resolution: 0.0001; Precision: +/-0.0001
The unit runs off (2) AAA batteries on a LARGE PRINT digital LCD display.  
---
DEF-202 Specs:

| | |
| --- | --- |
| Temperature Range | 10 to 45 °C (50 to 113 °F) |
| Power Source | 2 AAA Batteries |
| Battery Life | 5000+ Readings |
| Dimensions | 145 x 75 x 37 mm (5.7 x 2.95 x 1.46 in.) |
| Weight | 250 grams (8.8 Oz.) |
---
International Shipping:

International shipping is via either US Postal's Global Priority (Air) Mail, which is $15.00 ($12.00 to Canada) and takes 3-8 business days.
Shipping Insurance is an additional $15.00.
 Questions?
Larger orders?
Multiple Orders?
Prefer a different shipping method?
Please feel free to call, fax or e-mail!
---
Other types of Portable Refractometers are available through our eBay Store!  Check out
our 
other items
!
National Industrial Supply 

30777 Rancho California #891420
Temecula, CA 92589, USA
Sales: 951.308.9269
Fax: 310.833.7306  
We prefer Paypal!

---
---