MISCO PA Digital Refractometer, NaCl Scales, Specific Gravity - Armor Jacket


Click Here. Double your traffic. Get Vendio Gallery - Now FREE!
  Item Description: MISCO Palm Abbe Digital Handheld Refractometer, Sodium Chloride Scales, Specific Gravity, Parts Per Thousand - DOES include a Rubber Armor Jacket

MADE IN THE USA!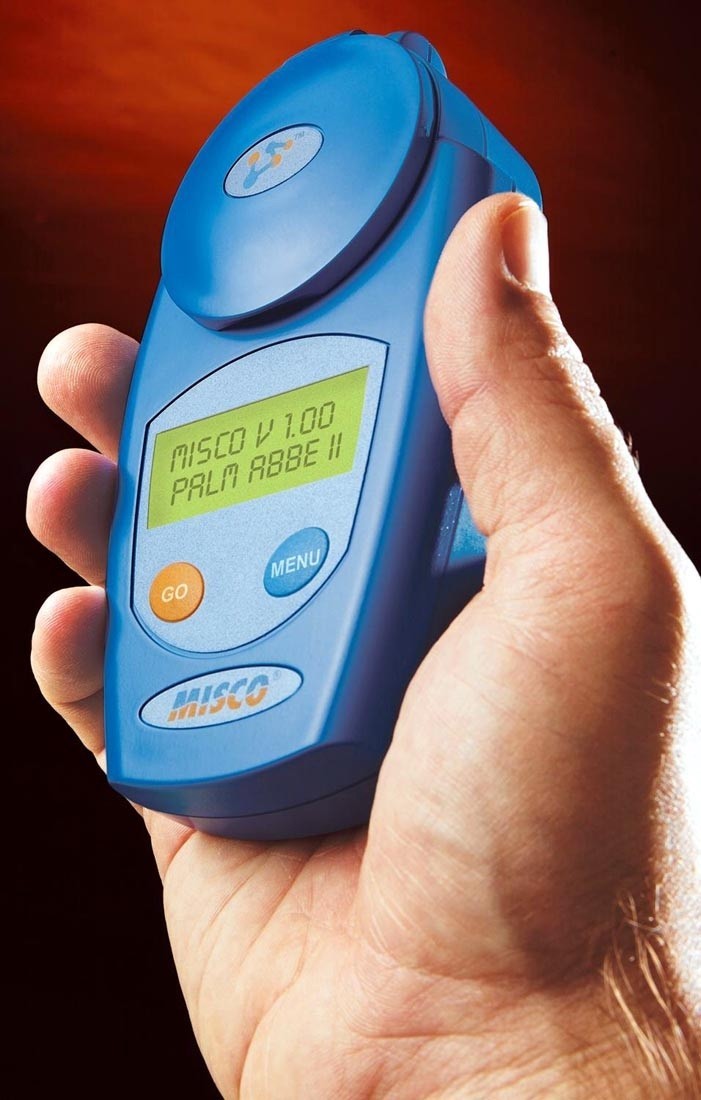 INSANE PRICE FOR THE POWER!
DID WE MENTION THAT IT IS MADE IN THE USA?  IT IS!
---
One BRAND NEW Sodium Chloride Refractometer measures Sodium Chloride specific gravity and salinity, in parts per thousand, instantly and accurately with the MISCO Palm Abbe digital handheld refractometer. A refractometer is faster and much more capable of accurately determining specific gravity and concentration compared to hydrometers.
The Palm Abbe is fast, convenient, and easy to use. Simply place a drop or two of Sodium Chloride in the stainless-steel sample well and press a button.
The large dual-line LCD display is easily read, even in dim light, and removes the subjectivity associated with interpreting where a boundary line crosses tiny scale divisions. And, it is so easy to use! The user interface consists of two buttons, one to take readings and the other to step through various menu options.
Calibration is automatic and does not require the use of special calibration solutions, or tools. The Palm Abbe refractometer automatically calibrates itself to water and is ready to use in seconds. No more screws to turn and nothing to adjust.
The Palm Abbe is a fourth-generation digital handheld refractometer that puts laboratory precision in the palm of your hand. Not just laboratory precision, but laboratory precision for the price of a traditional analog refractometer. It is exactly the kind of bold, cutting-edge technology you would expect from MISCO, the company that pioneered the digital handheld refractometer.
- each unit comes with a 1 Year Warranty (which is better than the other digital Brix Refractometers)! 
Included are: MISCO Palm Abbe Refractometer, Protective Rubber Armor Jacket, Instruction Manual
This is the Refractometer of Professionals!

The Sodium Chloride Refractometer  Scales:
Scale 1 Fluid: Sodium Chloride (NaCl); Unit of Measure: Specific Gravity (D20/D20); Range: 1.000 to 1.204; Resolution: 0.001; Precision: +/-0.001
Scale 2 Fluid: Sodium Chloride (NaCl); Unit of Measure: Parts Per Thousand (ppt); Range: 0 to 264; Resolution: 1; Precision: +/-1
The unit runs off (2) AAA batteries on a LARGE PRINT digital LCD display.  
---
Sodium Chloride Refractometer Specs:

| | |
| --- | --- |
| Temperature Range | 0 to 50 °C (32 to 122 °F) |
| Power Source | 2 AAA Batteries |
| Battery Life | 5000+ Readings |
| Dimensions | 145 x 75 x 37 mm (5.7 x 2.95 x 1.46 in.) |
| Weight | 250 grams (8.8 Oz.) |
---
International Shipping:

International shipping is via either US Postal's Global Priority (Air) Mail, which is $15.00 ($12.00 to Canada) and takes 3-8 business days.
Shipping Insurance is an additional $15.00.
 Questions?
Larger orders?
Multiple Orders?
Prefer a different shipping method?
Please feel free to call, fax or e-mail!
---
Other types of Portable Refractometers are available through our eBay Store!  Check out
our 
other items
!
National Industrial Supply 

30777 Rancho California #891420
Temecula, CA 92589, USA
Sales: 951.308.9269
Fax: 310.833.7306 
We prefer Paypal!

---