MISCO PA Digital Refractometer, Soy Milk Scales, Milk Solids - ARMOR JACKET


Click Here. Double your traffic. Get Vendio Gallery - Now FREE!
  Item Description: MISCO Palm Abbe Digital Handheld Refractometer, Soy Milk Scales, Milk Solids and Soy Protein- DOES include a Rubber Armor Jacket
MADE IN THE USA!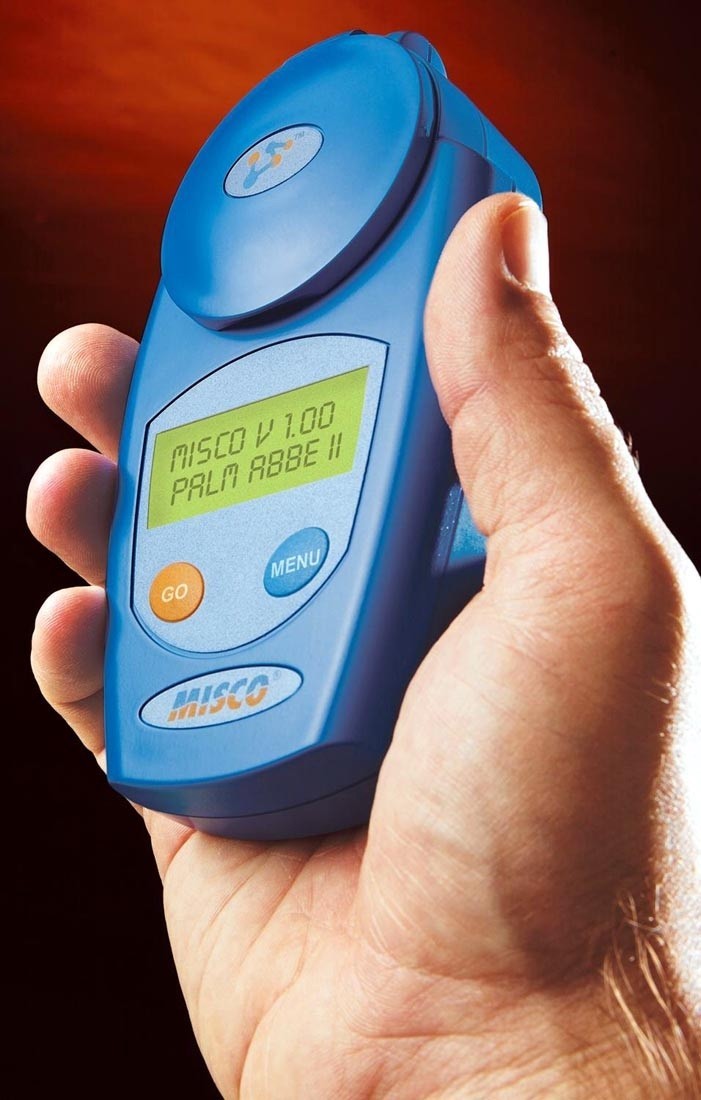 INSANE PRICE FOR THE POWER!

DID WE MENTION THAT IT IS MADE IN THE USA?  IT IS!
---
One BRAND NEW MISCO Digital Soy Milk Refractometer can be used by food processing companies, restaurants, and aid organizations where proper solids content control will produce repeatable formulation, consistency, and flavor. Aid organizations, in third-world countries, will now be able to measurably stretch limited resources farther without waste and without fear of creating a nutritional deficiency.
Soy Milk is an emulsion consisting primarily of water, fat, and protein, in essentially the same concentration as dairy milk. However, emulsions can be tricky fluids to measure accurately with a refractometer, and usually result in a blurry shadowline on traditional analog refractometers, making repeatable measurement nearly impossible. The MISCO Soy Milk Refractometer has a high-definition detector array which better images emulsions and provides a great advantage over other instrument designs.
Only a couple drops of sample are necessary to fill the Soy Milk Refractometer's stainless-steel sample well. Sapphire optics, the next hardest substance to diamond, will withstand years of wear and tear. The large 24-character LCD display is easily read, even in dim light, and an evaporation cover helps prevent evaporation and keeps out stray light.
Temperature compensation is automatic for fluids read between 10 and 40 °C (+50 to 104 °F). Calibration of the Soy Milk Refractometer is automatic and does not require special calibration solutions or tools; they automatically calibrate themselves to water. 
- each unit comes with a 1 Year Warranty (which is better than the other digital Brix Refractometers)! 
Included are: MISCO Palm Abbe Refractometer, Protective Rubber Armor Jacket, Instruction Manual 
This is the Refractometer of Professionals!

The MISCO Digital Soy Milk Refractometer  Scales:
Scale 1 Fluid: Soy Milk; Unit of Measure: % Solids; Range: 0 to 20; Resolution: 0.1; Precision: +/-0.1
Scale 2 Fluid: Soy Milk; Unit of Measure: Protein Concentration; Range: 0 to 9; Resolution: 0.1; Precision: +/-0.1
The unit runs off (2) AAA batteries on a LARGE PRINT digital LCD display.
---
MISCO Digital Soy Milk Refractometer Specs:

| | |
| --- | --- |
| Temperature Range | 0 to 50 °C (32 to 122 °F) |
| Power Source | 2 AAA Batteries |
| Battery Life | 5000+ Readings |
| Dimensions | 145 x 75 x 37 mm (5.7 x 2.95 x 1.46 in.) |
| Weight | 250 grams (8.8 Oz.) |
---
International Shipping:

International shipping is via either US Postal's Global Priority (Air) Mail, which is $15.00 ($12.00 to Canada) and takes 3-8 business days.
Shipping Insurance is an additional $15.00.
 Questions?
Larger orders?
Multiple Orders?
Prefer a different shipping method?
Please feel free to call, fax or e-mail!
---
Other types of Portable Refractometers are available through our eBay Store!  Check out
our 
other items
!
National Industrial Supply 

30777 Rancho California #891420
Temecula, CA 92589, USA
Sales: 951.308.9269
Fax: 310.833.7306 
We prefer Paypal!

---