Misco Palm Abbe PA202 1.3330-1.5040 RI Refractometer, NO ARMOR JACKET


Click Here. Double your traffic. Get Vendio Gallery - Now FREE!
  Item Description: Misco Palm Abbe PA202 Dual Scale Portable Digital 0.0-85.0% Brix AND 1.3330-1.5040 Refractive Index Refractometer
NO ARMOR JACKET
MADE IN THE USA!
MORE POWERFUL THAN THE COMPETITION, 
AND LESS EXPENSIVE!

 SUPER ACCURATE DUAL SCALE DIGITAL BRIX/REFRACTIVE INDEX REFRACTOMETER - ACCURATE TO +/-0.1% BRIX AND +/-0.0001 nD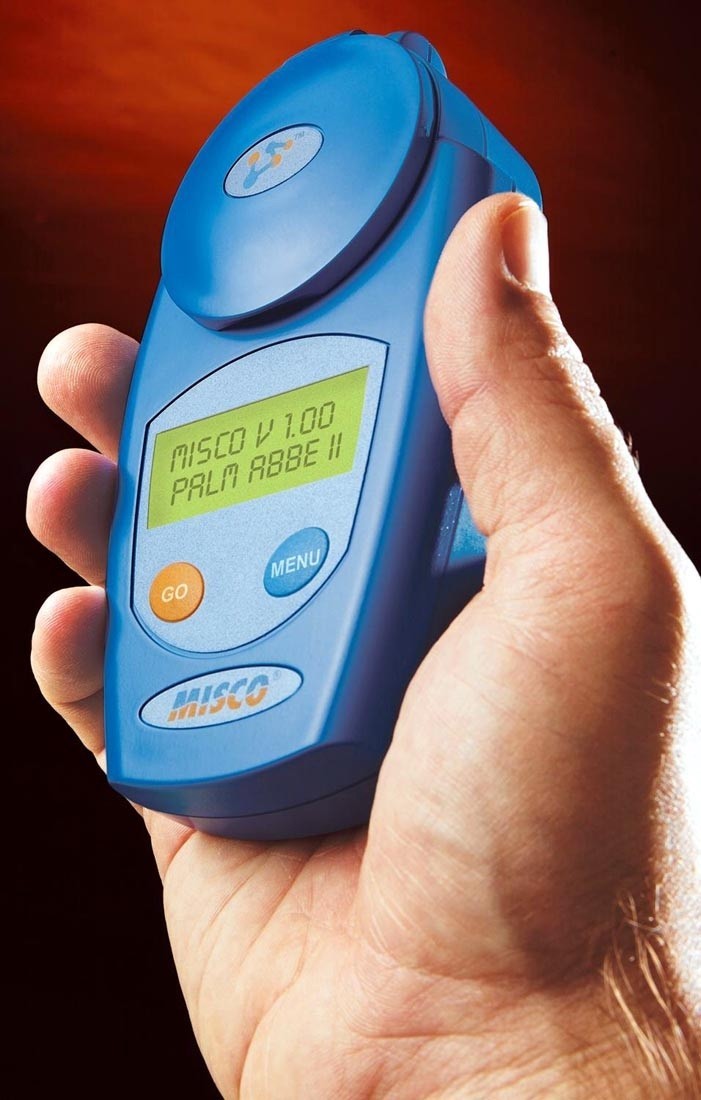 INSANE PRICE FOR THE POWER!
THIS UNIT WILL BE THE MOST POPULAR DIGITAL REFRACTIVE INDEX REFRACTOMETER IN THE WORLD VERY SOON!
A FAVORITE OF FOOD INDUSTRY PROFESSIONALS, BREWERS, WINEMAKERS, MACHINISTS AND MORE!
WATER AND DUST-PROOF TO IP64 LEVELS!
DID WE MENTION THAT IT IS MADE IN THE USA?  IT IS!
---
One BRAND NEW Misco Palm Abbe PA2012 (0.0% to 85.0% Brix Scale AND 1.3330-1.5040 nD Scale) Hand held Digital Refractometer in a CLAM SHELL case. This unit is especially handy for testing items like Metalworking fluids, Chemicals, Fruits, Vegetables, Grasses, Soda Fountains, Lobster blood, Jam, Jelly, Ketchup, Marmalade, Maple Syrup, Sauces, Fruit Juices, Fruit Juice Concentrate, Smoothies, etc...  Calibrate with Water (water = 0.0% Brix) and wipe clean with a cotton towel, and you're ready to go!  You have highly accurate results in seconds!  This is a very powerful and simple to use unit that has the unsurpassed quality of MISCO - each unit comes with a 1 Year Warranty (which is better than the other digital Brix Refractometers)! 
Included are: Clam Shell Case, batteries and a Users Guide. 
DOES NOT include a  ARMOR JACKET
This is the Refractometer of Professionals!

The PA202 is equipped with "Automatic Temperature Compensation" for accurate measurements without re-calibration after shifts in ambient working temperature (field use).  The "ATC" range is 10'C-50'C (50'F-122'F).  It has a Stainless Steel Well with a Sapphire Prism and a less than 5 second measuring time! The Misco PA202 is also very light-weight at only 8.8 oz making it very portable! Also comes with settings of 5 languages for our international clients!
The unit runs off (2) AAA batteries on a LARGE PRINT digital LCD display.  The PA202 has earned the CE seal of approval for engineering excellence!
---
PA202 Specs:

* Scale Range: 0%-85.0% Brix AND 1.3330-1.5040 nD
* Resolution: 0.1% Brix AND 0.0001 nD
* Accuracy: +/- 0.1% Brix AND +/-0.0001 nD<-------SUPER ACCURATE!
* Dimensions: 145mm x 75mm x 37mm
* Weight: 250 grams/8.8 ounces
When you can find this item, it generally sells for $400.00 and up at most retailers.
COMPARE THIS UNIT'S ACCURACY TO ANY OTHER HANDHELD REFRACTOMETER, AND DO YOU KNOW WHAT YOU WILL FIND?  IT IS MORE ACCURATE AND LESS EXPENSIVE!  
MORE BANG FOR YOUR BUCK!
---
International Shipping:

International shipping is via either US Postal's Global Priority (Air) Mail, which is $15.00 ($12.00 to Canada) and takes 3-8 business days.
Shipping Insurance is an additional $15.00.
 Questions?
Larger orders?
Multiple Orders?
Prefer a different shipping method?
Please feel free to call, fax or e-mail!
---
Other types of Portable Refractometers are available through our eBay Store!  Check out
our 
other items
!
National Industrial Supply 

30777 Rancho California #891420
Temecula, CA 92589, USA
Sales: 951.308.9269
Fax: 310.833.7306 
We prefer Paypal!

Compare this unit to the Atago PAL-Alpha or the Atago PAL-RI...  The PA202 is less expensive, made in America and TWICE as accurate!
---
---
We Also Recommend
---