NISupply 45-82% Brix Refractometer w 60% Calibration Fluid + (10) 3ml Pipettes
Item Description:

RHB-82ATC - 45-82% Brix Portable Refractometer with Automatic Temperature Compensation (ATC) - COMES WITH A 1.8ML (HALF FULL) VIAL OF 60% BRIX CALIBRATION FLUID AND (10) 3ml Pipettes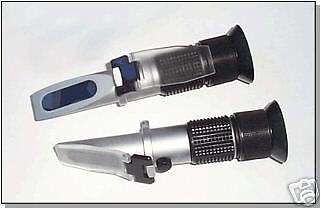 THIS UNIT IS A MAPLING STAPLE!  BRING THIS TO THE SUGAR SHACK!
THIS LISTING INCLUDES THE 60% BRIX CALIBRATION FLUID, 1.8ML - HALF FULL VIAL!  GOOD FOR 20+ CALIBRATIONS!
RHB-82ATC Specs:

* 45-82% Brix Range
* 0.50% Brix Division
* +/- 0.30% Accuracy
* Sturdy Design; core of the unit is made of Aluminum, not plastic!  This isn't the crappy quality from Hong Kong!
* 3-YEAR WARRANTY against manufacturer's defects!
One BRAND NEW RHB-82ATC (45-82% Brix scale) Hand held Refractometer in a blue, foam-lined hard case. This unit is especially necessary when testing high sugar items like Maple Syrup (not raw Maple Sap - See RHB-10ATC), Fruit Juice Concentrates, Jellies, Jams, Chutney's, Marmalades and more. All RHB models use ambient light, no battery or power source is required.
This unit is not recommended for testing Honey.  Check out our line of Honey Refractometers in our eBay Store!
Included are: A plastic hard case, (10) 3ml pipettes for dropping test fluids onto the prism, a mini screwdriver for scale calibration, A 1.8ML VIAL OF 60% BRIX CALIBRATION FLUID and a Users Guide.
Models with the "ATC" suffix are equipped with "Automatic Temperature Compensation" for accurate measurements without recalibration after shifts in ambient working temperature (field use). The RHB-82ATC does have ATC!
---
Calibration Fluid - INCLUDED!  Place a drop or two of the 60% Brix Calibration fluid onto the unit at room temp and the Refractometer should read 60.0% Brix.  If not, please follow the calibration procedure that comes with the unit - turn the calibration screw until the unit reads 60.0% Brix!  This is a clear, non-toxic, odorless fluid that is safe to use.  The old monobromonapthlene had a smell that permeated 4 ziplock freezer bags loaded with dryer sheets!  No odor!  No calibration block necessary!
---
National Industrial Supply
30777 Rancho California #891420
Temecula, CA 92589, USA
Sales: 951.308.9269
Fax: 310.833.7306 
---