NISupply Heavy Duty 0-32% ATC Brix Refractometer, RHBN-32ATC + (10) 3ml Pipettes
Item Description: RHBN-32ATC Portable Heavy Duty Brix Refractometer COMES WITH (10) 3ml Pipettes
---
This is a HIGH Quality item, please don't let the low price fool you! This unit is made of durable Aluminum and has a 3 Year Warranty!  The BLACK plastic units do not!
 Product Specs:
* 0-32% Brix Scale
* Accurate to +/- 0.20% Brix
* Scale Divisions: 0.20%
* Automatic Temperature Compensation (ATC)
* Sturdy design, made of durable machined Aluminum, not "carbon" plastic
Included are: (10) 3ml pipettes for dropping test fluids onto the prism (never dip the refractometer into the test fluid!), and a Users Guide in a blue plastic, foam-lined hardcase (no soft cases here!). NO CALIBRATION SCREWDRIVER IS NECESSARY! The calibration knob can be tightened with a simple turn, and then locked into place. No need for a screwdriver!
---
One BRAND NEW RHBN-32ATC (0-32% Brix scale) Heavy Duty Hand Held Refractometer in a blue, foam-lined hard case. This unit is great for the testing of Fruits, Vegetables and Grasses, Wine or Beer makers and for the maintenance of CNC Coolants (Soluble Oils, Semi-Synthetics, Neo-Synthetics and Synthetics) and Water Soluble Drawing & Stamping Compounds.
Fruits, Vegetables and Grasses: This unit will help you monitor the sugar levels of your crops, plants and trees. A valuable tool to help determine if it's the right time for harvest or you need to alter your plant food.  Use a garlic press or pliers to squeeze juice onto the prism of the refractometer if you can't squeeze it by hand.
Metalworking Fluids: Help maintain your coolant levels to improve finishes, extend tool life, elongate your coolant life and save you money!  Excellent for Soluble Oils, Semi-Synthetics, and Synthetics!  This is THE unit that is used around the world at Boeing, Airbus, Ford Motor Company, Toyota, West Coast Choppers and other manufacturer's big and small!  We are coolant experts!  We love questions!
Beer & Wine: Use the Brix readings to get your wort sugars and help to determine your finished alcohol readings (use in conjunction with a hydrometer).
All RHBN models use ambient light, no battery or power source is required. Models with the "ATC" suffix are equipped with "Automatic Temperature Compensation" for accurate measurements without recalibration after shifts in ambient working temperature (field use).
This model is unique to NI Supply!  We were the first to offer it back in 2003!  Get yours today at Wholesale prices!
---
Unique Design
(This is what separates this unit from the others!)
Super durable!  The unit is more rugged because it's heavier and thicker than other models!  The daylight plate has a reinforced front hinge to ensure long life in hostile environments!
Comes with a THREE YEAR Warranty against manufacturers defects! 
No one else at eBay does that!  You don't have to worry about OUR quality!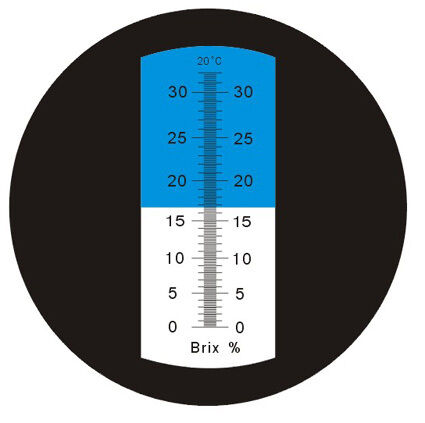 Click the Tags to go to our Store! 
---
International Clients:

Shipping is $15.00 ($12.00 to Canada)  via US Postal's Global Priority Mail/Air Mail and is advertised as taking 3-8 business days. Please be advised that there can be Customs delays from time to time.  Contact us for a shipping quote if you need your package shipped via a different carrier!
World - $15.00        Canada - $12.00   ALL via USPS Global Air Mail
Questions?
Larger Orders?
 Please feel free to call, fax or e-mail!
---
Other types of Portable Refractometers are available at our eBay Store! 

 Brix units that cover the 0-32% Brix range to consider (at our eBay Store)...
RHB-32ATC:  The Classic, General Duty 0-32% Brix Refractometer
RHBN-32ATC:  Heavy Duty Version of the RHB-32ATC (this listing)
ZGRB-32ATC:  Heavy Duty with an internal light for a boost of light when conditions are darker (Dawn, Dusk, Night, Indoors...).  Perfect for Indian Summer harvesting!
RHW-25/Brix-40ATC:  Incorporates a 0-40% Brix scale AND a Potential Alcohol scale!  Potential Alcohol is not finished alcohol - NO REFRACTOMETER CAN READ FINISHED ALCOHOL!  Excellent for winemaking and beermaking!
Atago PAL-1:  0-53% Digital Brix Range from Atago!  Waterproof and dustproof!  The absolute best!  Easy digital readout! 
All of these and more are available at www.nisupply.com which is our eBay Store!

---
National Industrial Supply

30777 Rancho California #891420
Temecula, CA 92589, USA
Sales: 951.308.9269
Fax: 310.833.7306  
We Prefer Paypal!

Click Here. Double your traffic. Get Vendio Gallery - Now FREE!
Pay me securely with any major credit card through PayPal!
---
---