pH Meter Calibration Buffer Solution - YOU CHOOSE 4, 7 OR 10 - 4oz
Item Description:  
pH Meter Calibration Buffer Solution - 4oz/125ml
(you choose which one(s) you need 4, 7 or 10pH) THIS LISTING IS FOR
ONE
BOTTLE ONLY! PLEASE SPECIFY WHICH PH(s) YOU NEED AT CHECKOUT!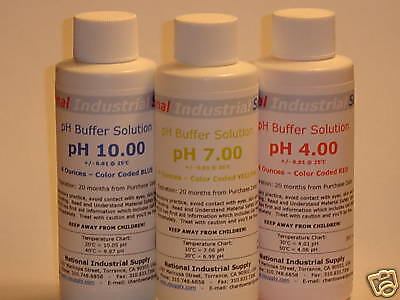 LET'S BE REAL CLEAR -
YOU CHOOSE WHICH pH BUFFER YOU NEED!
ORDER AS MANY AS YOU NEED!
WHEN YOU MAKE YOUR PAYMENT, LET US KNOW WHICH pH BUFFERS YOU NEED!
4, 7 AND 10pH ARE AVAILABLE!
Product Specs:
* 125 ml Bottles (4oz)
* Temperature Charts are included on each bottle of solution.
* Expiration dates on every bottle; 20 months from date of purchase
* pH 7.00 is the most commonly used Buffer Solution.
---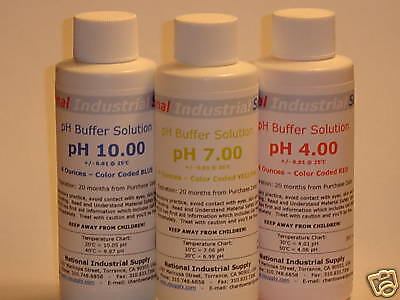 Use this product to keep your pH Meters running at optimum levels!
You choose which Buffer Solution you need! 4.00 pH. 7.00 pH. 10.00 pH.
This listing is for only ONE BOTTLE, but you can buy as many as you need!  If you need 2 bottles, purchase 2 here!
---
To ensure optimum accuracy time after time, calibrate your instruments using pH Buffer Solutions. Ideal for 1-Point, 2-Point or 3-Point Calibrations! Don't buy Kool-aid type pouches that rely on you having access to deionized water and lab equipment to mix the solution. Buy smart, buy a premixed product to save you time and peace of mind!
---
SUGGESTED PROCEDURES:
Proper electrode storage maximizes electrode performance and extends electrode life. The electrodes should not be stored in distilled water. The filling solution will be diluted and the electrode response will be slow. If using a refillable pH electrode, the fill hole should be covered overnight and during storage. The fill hole cover must be removed during calibration and measurement to ensure a uniform flow of electrode filling solution. The best way to store the electrode is to read the included manual.  We also carry an Electrode Storage Solution at our eBay Store!
Maintenance and cleaning: The electrode should be inspected weekly for scratches, cracks, or salt crystallization. Follow instructions and do not clean excessively.
Calibration: To verify electrode slope and proper function, calibration must be performed each day before any samples are measured and re-calibrated every couple of hours to ensure that correct slope is used to calculate the sample pH. If the user is unsure of the sample range, a pH test strip can quickly determine the approximate sample pH. TIP: Regularly, the electrode should be calibrated with 2 or 3 buffers or standards that bracket the expected sample range.
Rinsing between measurements: Rinsing prevents contamination by carryover on the electrodes. Tip: The electrode should be rinsed with deionized water or an aliquot of the next buffer or sample. Caution: the pH electrode glass bulb should not be wiped.
Temperature: To account for pH slope, buffer and sample changes, a separate or integrated automatic temperature comp. probe or digital LogR should be used. pH is readily temperature correctable.
---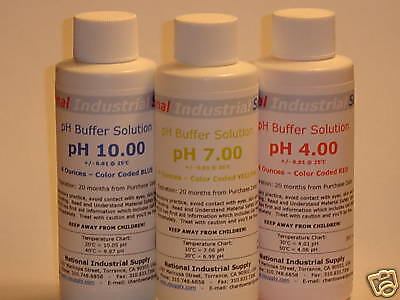 ---
National Industrial Supply
30777 Rancho California #891420
Temecula, CA 92589, USA
Sales: 310.748.6858  -  Fax: 310.733.5480  -  E-mail: nisupply@gmail.com  -  Website: www.nisupply.com
---