MISCO BKPR-2 Palm Abbe Digital Refractometer, Honey Scales- Armor Jacket

  Item Description:  MISCO BKPR-2 Palm Abbe Digital Handheld Refractometer, Honey Scales, % Solids, Moisture Content - DOES include a Rubber Armor Jacket

MADE IN THE USA!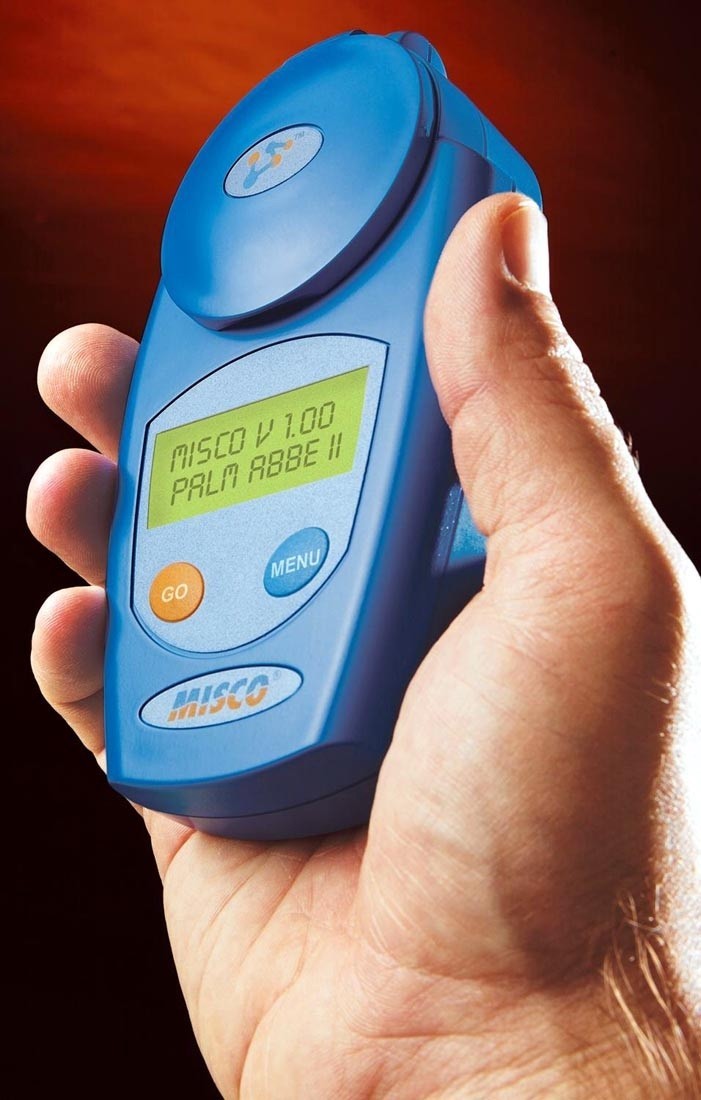 INSANE PRICE FOR THE POWER!
DID WE MENTION THAT IT IS MADE IN THE USA?  IT IS!
---
One BRAND NEW MISCO BKPR-2 -Measure honey moisture content plus honey solids content with the MISCO BKPR-2 Digital Honey Refractometer. The honey refractometer is designed for government honey inspectors, professional beekeepers, honey producers, honey mixers, honey brokers, or anyone requiring the absolute most accurate, repeatable readings of honey moisture content and honey solids content.
The magic behind the precision of the MISCO BKPR-2 Digital Honey Refractometer is a result of the Palm Abbe OPTICAL-ENGINE®. This Optical-Engine combines high-precision optics with a linear detector array containing 1,024 elements, more than seven times the elements of the leading competitor. This detector array allows the MISCO Honey Refractometer repeatably measure to better than +/-0.1% honey moisture content.
Since honey is comprised of a mixture of mostly fructose, glucose, and water, readings on the MISCO BKPR-2 Digitial Honey Refractometer are automatically temperature compensated using a special compensation specific to honey. This differs from other refractometers which use "sucrose" temperature compensation, instead of honey compensation. Refractometers using sucrose compensation will have a slight error at 25°C (77°F) and even more error as the temperature increases. Instruments without temperature compensation can be off by more than 3%
- each unit comes with a 1 Year Warranty (which is better than the other digital Brix Refractometers)! 
Included are: MISCO Palm Abbe Refractometer, Protective Rubber Armor Jacket, Instruction Manual
This is the Refractometer of Professionals!
The MISCO BKPR-2 Scales:
Scale 1 Fluid: Honey; Unit of Measure: % Soluble Solids; Range: 75-87; Resolution: 0.1; Precision: +/-0.06
Scale 2 Fluid: Honey; Unit of Measure: % Moisture; Range: 13 to 30; Resolution: 0.1; Precision: +/-0.06
The unit runs off (2) AAA batteries on a LARGE PRINT digital LCD display.  
---
VETMED02

 Specs:

| | |
| --- | --- |
| Temperature Range | 0 to 50 °C (32 to 122 °F) |
| Power Source | 2 AAA Batteries |
| Battery Life | 5000+ Readings |
| Dimensions | 145 x 75 x 37 mm (5.7 x 2.95 x 1.46 in.) |
| Weight | 250 grams (8.8 Oz.) |
---
International Shipping:


International shipping is via either US Postal's Global Priority (Air) Mail, which is $15.00 ($12.00 to Canada) and takes 3-8 business days.
Shipping Insurance is an additional $15.00.
Questions?
Larger orders?
Multiple Orders?
Prefer a different shipping method?
Please feel free to call, fax or e-mail!
---
National Industrial Supply 

30777 Rancho California #891420
Temecula, CA 92589, USA
Sales: 951.308.9269
Fax: 310.733.5480
We prefer Paypal!

---