MISCO eMaple PA Digital 0.0-85.0% Brix , Maple Syrup & Sap- NO ARMOR JACKET


Click Here. Double your traffic. Get Vendio Gallery - Now FREE!
  Item Description: MISCO eMaple Palm Abbe Digital Handheld Refractometer, Maple Syrup & Sap Scales, Hot & Cold Samples, Sugar Content 0-85.0 Brix, Fahrenheit- NO ARMOR JACKET
MADE IN THE USA!
MORE POWERFUL THAN THE COMPETITION, 
AND LESS EXPENSIVE!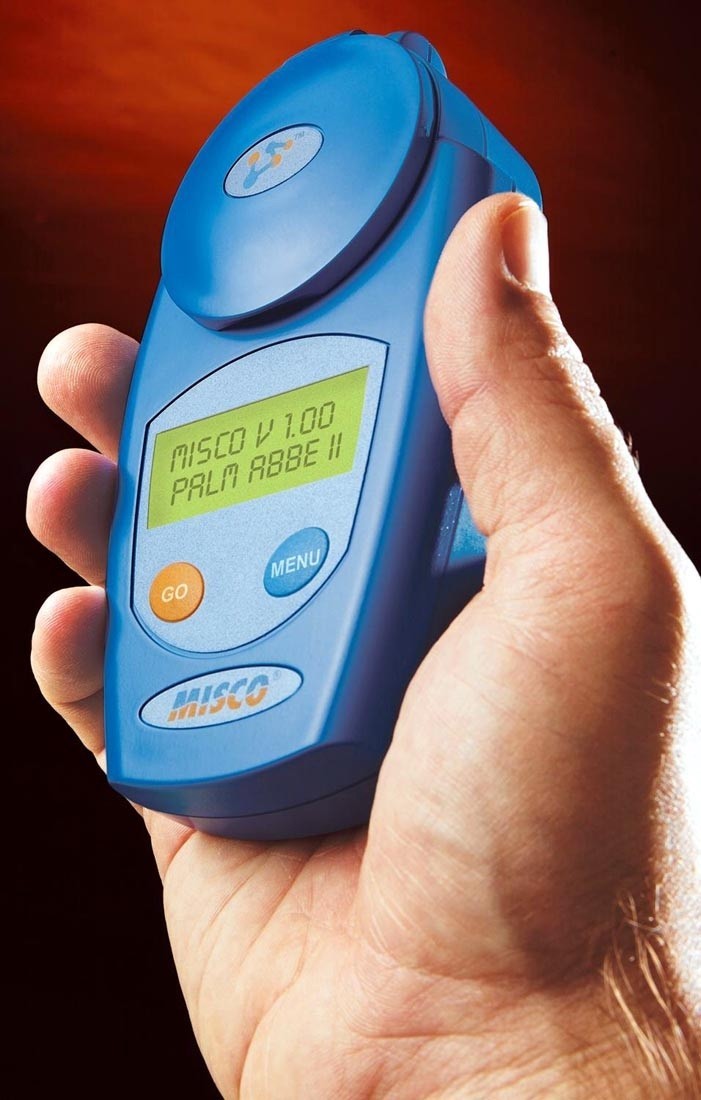 INSANE PRICE FOR THE POWER!
DID WE MENTION THAT IT IS MADE IN THE USA?  IT IS!
---
One BRAND NEW   eMaple Digital Maple Syrup Refractometer can be used at the tree tap or tank to measure maple sap, for pre-process monitoring of reverse osmosis, in the sugar shack to determine when to draw maple syrup from the boiler, or during maple syrup bottling and testing.
The principle unit of measure the maple syrup producer is interested in is degrees Brix. Brix is a measure of the percentage of sucrose, by weight, dissolved in a sugar/water solution. In the case of maple sap and maple syrup, 98% or more of the dissolved solids are made up of sugar, so the Brix scale is very applicable to maple syrup measurement.
Hydrometers have long been used in maple syrup testing; however, a refractometer is more accurate than a hydrometer, requires a smaller sample size, eliminates sources of error, is easily cleaned, and reduces the time that it takes to measure maple sap and maple syrup.
The eMaple refractometer features two scales, both with a range from 0 to 85 Brix. The first scale is a conventional Brix scale is intended for accurately measuring maple sap or maple syrup with a fluid temperature at or under 30 °C (86 °F).
The second scale is a high-temperature scale for testing syrup above 30 °C (86 °F). The MISCO eMaple Refractometer approaches hot maple syrup measurement in two ways. First, the eMaple has special electronic circuitry to prevent the display of readings before the temperature has stabilized. Second, because of the difficulty in reporting stable readings of hot maple syrup, there is a second scale based on hot syrup.    - each unit comes with a 1 Year Warranty (which is better than the other digital Brix Refractometers)! 
Included are: MISCO Palm Abbe Refractometer, Instruction Manual 
DOES NOT include a ARMOR JACKET
This is the Refractometer of Professionals!

---
eMaple Digital Maple Syrup Refractometer Specs:

| | |
| --- | --- |
| Temperature Range | 0 to 50 °C (32 to 122 °F) |
| Power Source | 2 AAA Batteries |
| Battery Life | 5000+ Readings |
| Dimensions | 145 x 75 x 37 mm (5.7 x 2.95 x 1.46 in.) |
| Weight | 250 grams (8.8 Oz.) |
| Scale | Fluid Name | Unit Of Measure | LCD Display Name | Range | Resolution | Precision |
| --- | --- | --- | --- | --- | --- | --- |
| 304 | Maple Syrup temp below 86'F | Brix | Syrup <86 °F | 0 to 85 | 0.1 | 0.1 |
| 305 | Maple Syrup temp above 86'F | Brix | Syrup >86 °F | 0 to 85 | 1 | 0.5 |
International Shipping:

International shipping is via either US Postal's Global Priority (Air) Mail, which is $15.00 ($12.00 to Canada) and takes 3-8 business days.
Shipping Insurance is an additional $15.00.
 Questions?
Larger orders?
Multiple Orders?
Prefer a different shipping method?
Please feel free to call, fax or e-mail!
---
Other types of Portable Refractometers are available through our eBay Store!  Check out
our 
other items
!
National Industrial Supply 

30777 Rancho California #891420
Temecula, CA 92589, USA
Sales: 951.308.9269
Fax: 310.833.7306 
We prefer Paypal!

---